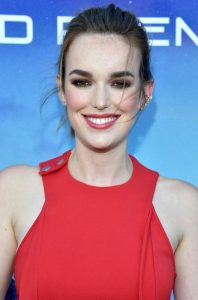 English actress Elizabeth Henstridge had her career start in the 2010s. She first acted in a few short films and made a guest appearance in the show Hollyoaks as Emily Alexander. She next starred in an unaired pilot called Shelter. In 2012, she made her film debut in The Thompsons. This was followed by the movie Gangs of Tooting Broadway. Her break came after landing the role of Jemma Simmons in ABC series Agents of S.H.I.E.L.D.
She has been with the series since its premiere in 2013. The success of the show also earned her mainstream recognition. While on Agents of S.H.I.E.L.D., she has also worked as a voice actress in such shows as Penn Zero: Part-Time Hero, Ultimate Spider-Man vs The Sinister 6, and Agents of S.H.I.E.L.D.: Slingshot. Additionally, she has acted in the movies Reach Me and Wolves at the Door.
To play her role in the action-filled series Agents of S.H.I.E.L.D, the actress makes sure she is physically prepared. This means she follows an active lifestyle in order to stay in shape and keep her strength, two aspects she needs to maintain in order to make her character in the show believable. In an interview, the actress talked about her hobbies, which basically involved being mobile and active. She loves physical activities and it has since kept her in top shape.
Talking about living in Los Angeles, she noted how the city is great for outdoor activities like hiking. She said: "Well, I mean, we film in Los Angeles, so there are the most amazing hikes here, which is so different from what I would grow up with in England. So, I love to go on hikes, I love working out and going to the movies and theatre." The action scenes she does in the show she's currently in are also workout themselves simply because they keep her challenged on a physical level.