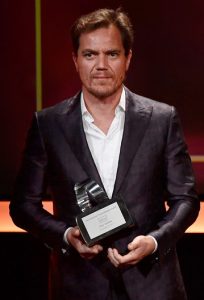 Michael Shannon is an acclaimed Hollywood actor whose work in such movies as Revolutionary Road and Nocturnal Animals had earned him Oscar nominations. His first role in the movies came in 1993 with Groundhog Day. He booked small to supporting roles on a number of other films in the '90s before gaining recognition for his performance in 8 Mile.
Best known for his versatility, he has appeared in both comedies and dramas, which include Pearl Harbor, Bad Boys II, and Bug. In 2008, he was further recognized for his impressive performance in the Sam Mendes period drama Revolutionary Road. In the 2010s, he starred in such movies as Jonah Hex, Machine Gun Preacher, and The Iceman.
Shannon then played the villainous General Zod in the superman film Man of Steel. In 2016, he portrayed Elvis Presley in Elvis & Nixon, as well as starred opposite Jake Gyllenhaal in Nocturnal Animals. Afterward, he worked with Guillermo del Toro in The Shape of Water and portrayed George Westinghouse in the historical drama The Current War.
More recently, Shannon starred in the mystery film Knives Out and The Quarry. On television, he is best known for playing Nelson Van Alden/George Mueller in Boardwalk Empire. To add, he starred in the miniseries Waco and The Little Drummer Girl. Just this year, he starred alongside Nicole Kidman in Nine Perfect Strangers. Michael Shannon stars alongside Brad Pitt in the upcoming movie Bullet Train.
As an actor, it is not new for him to physically prepare for a role. Fitness is also a natural part of his lifestyle, which is why he stays fit and strong despite nearing his 50s. For his role as the villain in Man of Steel, Shannon made sure he looked and felt the part. And, of course, it is common knowledge that being in a superhero movie requires main cast members to undergo physical training to prepare for their respective part.
So Michael Shannon did his homework diligently by bulking up, his transformation evident in the movie. In an interview, he revealed what workout move was the main highlight of his transformation. "It's all about the squats, man," said Shannon. "They've got these things, goblet squats, where you hold the kettle ball under your chin and you squat back down and back up." The actor also revealed that doing squats was a challenge for him because of his height but he didn't want to make any excuses.
The workout appeared to have paid off since his character was more than deemed as Superman's equal. Normally, Shannon enjoys simple exercises that include running and playing sports. But his Superman workout has gotten him developing new habits. Now, the actor enjoys his new physique, expressing how he didn't recognize himself when watching clips of his older movies. "I think I look pretty different. I saw that clip recently on a morning chat show, they showed it to me, and I didn't recognize myself. I was so skinny and weird looking. I'm much handsomer now." It's true what they say – there's strength in confidence.