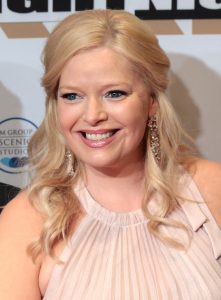 Melissa Peterman first debuted with a small role in the 1996 film Fargo. Later in the 2000s, she started acting on television. She had one-time roles in the TV shows Just Shoot Me and The Pitts. Her first starring role on the small screen was as Barbra Jean Booker Hart in the sitcom Reba, which she played from 2001 to 2007. At the same time, she appeared as herself in 7 episodes of The Pyramid.
During this period, Peterman had performances in the film How High and the TV movie Recipe For Disaster. Plus, she hosted the show CMT Comedy Stage. After Reba, the actress played recurring roles in Rita Rocks and Surviving Suburbia. Between 2009 and 2012, she became known as the host of the karaoke game show The Singing Bee.
In 2011, she played Carli Mitchell in the CMT series Working Class. She gained wider recognition for her role as Bonnie Wheeler in the sitcom Baby Daddy, which aired on TV between 2012 and 2017. Recently, she appeared as a contestant in Worst Cooks in America. As of 2018, she stars as Brenda Sparks in the CBS comedy series Young Sheldon. Also in the 2010s, she had performances in the movies Here Comes the Boom and Muffin Top: A Love Story.
The comedic actress stays healthy by choosing nutritious foods. But she admits it's also hard to prepare healthy meals with her crazy schedule. "I would like to be able to tell you that every morning I start my day with an organic egg white omelet with fresh spinach picked from my garden, a side of turkey bacon and a fresh fruit smoothie, but most mornings I eat cottage cheese from the container while looking for my son's shoes," revealed the comedian.
"Then I eat an apple on the way to his preschool, and the closest thing I have had to a fresh fruit smoothie since I had my son is a watermelon jolly rancher! For special occasions, I add cinnamon in my cottage cheese and dip the apple."