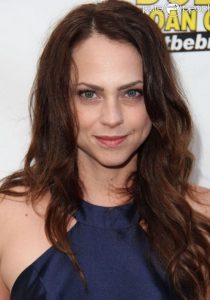 Hollywood actress Fiona Dourif started her professional acting career in 2005. Her debut was appearing in three episodes of the show Deadwood. She next appeared as Alice in 4 episodes of the TV series Thief. Meanwhile, she had her first movie role in 2006's Little Chenier. She next appeared as Becky in the film Garden Party, after which she had a one-time role in Law & Order: Special Victims Unit. Afterward, she played a minor role in the 2009 film The Messenger and guest-starred in an episode of Bored to Death. In 2011, she became known for her recurring role as Casey on the HBO series True Blood. She went on to appear in the film The Master.
In 2013, she starred as Nica Pierce in the horror film Curse of Chucky. Following this, she had performances in the films Gutshot Straight and Fear Clinic. She became further known after landing the starring role of Bart Curlish on the television series Dirk Gently's Holistic Detective Agency. At the same time, she starred in the film Blood is Blood. She went on to reprise her role as Nica in Cult of Chucky. She next had a role in the miniseries When We Rise, as well as a guest appearance in Shameless. This year, she appeared in three episodes of The Blacklist as Jennifer Reddington. She also starred as Good Leader Tavis on the new series The Purge.
The 37-year-old actress stays in shape by following a healthy diet plan. For starters, she stays away from anything processed. While she admits being more careless of her food choices when she was younger, now is a different story for the film and TV actress. As she nears her 40s, it's all about sticking to clean and nutritious foods for her. That's why her diet mainly consists of complex carbs, whole grains, and fruits and vegetables. For her meals, she usually goes for fish or chicken with salad on the side. She tries to avoid sugary foods as much as she could and stick to fruit juices or shakes instead.