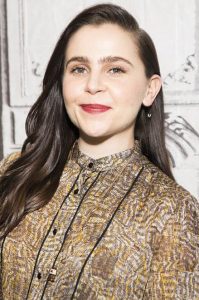 Hollywood actress Mae Whitman had her career beginnings in the mid-1990s. She made her debut in the movie When a Man Loves a Woman. She next appeared in the film Bye Bye Love and played Bill Pullman's character's daughter Patricia Whitmore in Independence Day. On television, her first notable role was as Sara Wilmette in Chicago Hope. She then voiced Little Suzy in the animated series Johnny Bravo, as well as played Chloe Madison in JAG.
In the 2000s, she starred as Emma Grace McKee in the TV series State of Grace. She also became known for her recurring character Ann Veal in Arrested Development. From 2008 to 2010, she played Rosie Weston in In Treatment. In the 2010s, she played Amber Holt in Parenthood and was the voice of April O'Neil in Teenage Mutant Ninja Turtles. She also starred in the movies The DUFF, Freaks of Nature, Operator, and CHiPs. Her upcoming movie is called Duck Butter. She will also star in the upcoming series Good Girls.
The 30-year-old actress maintains her health by sticking to a vegan lifestyle. She has been practicing veganism for years and is happy with how she feels about her body and her general well-being. Focusing on a plant-based diet plan, she doesn't consume any animal-based products. She gets her proteins and other minerals you usually get from meat from numerous plant-based alternatives, like broccoli and soy.
In an interview, the actress talked about how easy it was being a vegan during her stint with the TV series Parenthood. She said: "We have the best craft services I've ever had in my life. Sometimes they'll bring a raw vegan chef. Some of the wardrobe gals are vegan and a lot of people are vegetarian. A lot of us want to eat healthier and they make it very accessible."