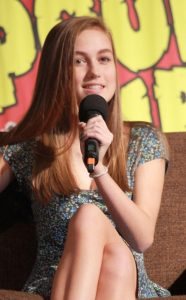 Hollywood actress Madison Lintz started her career as a child performer. At age six, she was already appearing in some television commercials and doing voice-overs. In 2010, she made her acting debut on a TV series. Her first role was as Sophia Peletier on the AMC series The Walking Dead. She appeared on the show recurrently from 2010 to 2012. Also, her performance on The Walking Dead earned her a Best Performance in a TV Series – Supporting Young Actress nomination at the Young Artist Awards.
After this, she appeared on the talk show It's Supernatural, as well as guest-starred in an episode of Nashville. In 2012, she made her cinematic debut in the film After. That same year, she also appeared in the film Parental Guidance and in the TV movie American Judy. Starting 2015, Lintz became further known for her role as Maddie Bosch in the Amazon series Bosch. The show in currently in its fifth season. Plus she also received a Young Artist nomination for her work here. Meanwhile, her latest film role was in 2018's Tell Me Your Name.
The young actress doesn't worry herself over dieting. Being in her early 20s, she has a fast metabolism that works in her favor. She's also naturally skinny. Nonetheless, it doesn't mean that Lintz doesn't understand the importance of a healthy diet. She allows herself to indulge in her cravings but she does so in moderation. She also eats whatever she wants, just as long as she practices portion control.
Want to know the Madison Lintz diet plan? For breakfast, she loves to have some pancakes or a bowl of cereal with milk. She would have an egg and a toast if she wants her breakfast to be more fully-loaded. For lunch and dinner, she prefers chicken or fish to red meat. She also tries her best to eat lots of veggies on a regular basis by incorporating salads into her daily diet.