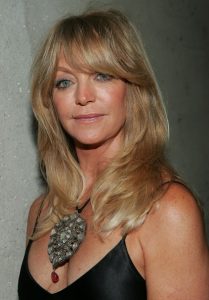 In 1967, actress Goldie Hawn started her Hollywood journey. Her first ever role on TV was as Sandy Kramer on the sitcom Good Morning, World. Afterward, she starred on the sketch comedy show Rowan & Martin's Laugh-In. Shortly after, she starred as Toni Simmons in 1969's Cactus Flower. Her performance was well-received, winning an Academy Award and Golden Globe for Best Supporting Actress. Since then, she's established a solid career in Hollywood. In the '70s, she starred in such films as There's a Girl in My Soup, Butterflies Are Free, The Sugarland Express, Shampoo, and Foul Play.
The following decade, she starred in the movie Private Benjamin, earning an Academy Award nomination for Best Actress. She later had performances in Overboard and Bird on a Wire, among others. She continued her career in the 1990s with roles in Housesitter, Death Becomes Her, The First Wives Club, Everyone Says I Love You, and The Out-of-Towners. In the 2000s, she only worked on two films: The Banger Sisters and Town & Country before taking a long hiatus from acting. In 2017, she returned to the screen with the film Snatched. Last year, she had a role in the Netflix film The Christmas Chronicles.
Apart from her diet plan, Goldie Hawn maintains her fit body and youthful glow by sticking to an active lifestyle. When asked what her secret is to looking great despite being in her 70s, the actress said it's all about being mindful and active.
"It's not a secret. I try to drink my juices. I try to work out every day a little bit. I find moments in the day. I have short meditation spurts during the day, if I don't have a long one in the morning, which sometimes the phone rings and you're off and running, but I do find time to get quiet. I hike. I bike. I try to have as much fun as possible," said Hawn. "I'm a dancer, so I can't stop moving," she added.