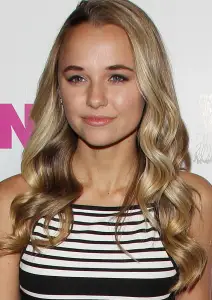 Hollywood star Madison Iseman has been acting since 2013, debuting in the independent film Second Chances. That same year, she also appeared in a couple of short films. Afterward, she had her first TV appearance in an episode of Modern Family. In 2015, she had roles in 4 films: Despair Sessions, The Better Half, Tales of Halloween, and Ghost Squad. That same year, she appeared on the web series The Social Experiment, as well as landed one-time roles on Kirby Buckets and The Real O'Neals.
She also appeared in 2 episodes of Henry Danger and 3 episodes of Those Who Can't. The following year, she had performances in the movies Laid in America and Laid in America. Her first starring role on the small screen was as Charlotte on the short-lived sitcom Still the King. In 2017, she gained recognition after landing the role of Still the King in Jumanji: Welcome to the Jungle. She will reprise her role in the upcoming sequel. During that period, she also had notable roles in the films Beauty Mark, Feast of the Seven Fishes, and Goosebumps 2: Haunted Halloween. Another upcoming project will be in an Annabelle sequel.
Despite her young age, the actress practices a healthy diet plan. For her, it's not just for staying slender but for maintaining her general health. In an interview, she got candid about her healthy eating habits. "I'm no nutrition expert, but I do eat clean and healthy. I always make sure I have a protein, carbs, and lots of greens. Because I'm trying to gain more muscle mass, I try to eat a lot more," said the actress. "I tend not to eat as much while filming, and I had to set reminders on my phone because it's easy for the day to escape me when shooting." Apart from her clean diet plan, she also works out to stay fit.