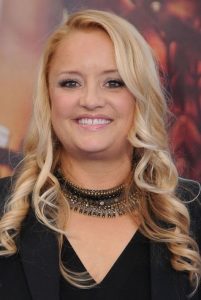 English actress Lucy Davis had her career beginnings in the early 1990s. During her initial years, she had one-time roles on such TV shows as The Detectives, Blue Heaven, Casualty, and The Bill. She next played Maria Lucas on the miniseries Pride and Prejudice. She later appeared in an episode of One Foot in the Grave, Scene, and The Grand. Meanwhile, on the big screen, she made her debut in the 1997 film The Gambler. Her first starring role on television was as Old Noshie on Belfry Witches. After this, she guest-starred in an episode of Doctors. In the 2000s, she became widely known for her role as Dawn Tinsley on the British sitcom The Office.
She played the role from 2001-2003. While on the show, she had a role in the 2002 film Nicholas Nickleby. The rest of the decade saw her perform in the movies Sex Lives of the Potato Men, Shaun of the Dead, Rag Tale, The TV Set, Garfield: A Tail of Two Kitties, Shades of Ray, and All About Steve. She also pursued a career in Hollywood, starring as Lucy Kenwright on the NBC series Studio 60 on the Sunset Strip. In the 2010s, she appeared as Lillie on the British show Married Single Other. She later played Emily on the American series Maron, as well as played Macy on the FX series Better Things. As of 2018, she stars as Hilda Spellman on the new Netflix series Chilling Adventures of Sabrina. She also portrayed Etta Candy in the 2017 film Wonder Woman.
During her younger years, the actress has struggled with the eating disorder bulimia. Now that she's gotten older, she's also become more accepting of her body. According to her, she's already accepted her body the way it is and that there's no point in trying to pressure herself to lose weight until it becomes devastatingly unhealthy. "I'd diet for a week and then eat all the food I hadn't consumed in the previous seven days in a single day," the actress shared. She now knows better. She takes care of her body not by depriving herself of food but by focusing on a healthy diet plan.