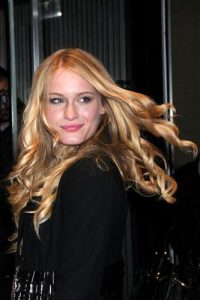 Television and film star Leven Rambin continues to have a promising career in Hollywood. Starting her career during her teens, she starred on All My Children. She played dual roles Lily Montgomery and Ava Benton. While still on the soap, she joined the main cast of The Book of Daniel. She next played Riley Dawson on Terminator: The Sarah Connor Chronicles. Continuing her success, she portrayed Sloan Riley on Grey's Anatomy. In the 2010s, she continued to play notable roles on the small screen. She made remarkable appearances on CSI: Miami, One Tree Hill, and The Tomorrow People. On the big screen, she joined the cast of major productions. These include The Hunger Games and Percy Jackson: Sea of Monsters. Her most recent acting gig on film was in I Am Michael.
26-year-old may only be in her 20s, but she has done enough as an actress. She has had so many notable roles on the small screen, making her very prolific. Aside from her knack for acting, she's also known for her amazing built. She's characterized by her fierce physical features, her toned and lean physique making more outstanding. Leven is also pretty serious about getting work done. Though she's normally a healthy person, she worked harder for her role as Glimmer on The Hunger Games.
Playing one of the tributes in the movie, the actress knew she had to be more agile, flexible, and more aware of her fighting capacities. In an interview, she said she had 2 months to physically prepare for her fighting scenes. How did she prepare? Leven mentioned doing lots of spinning, which she did for an hour and a half each day. She also performed boot-camp-style exercises. She rolled kettle balls and those that weighed 30 lbs across the room using ropes and rolling tires around. If she weren't training, she would still keep moving by hiking or running around LA with her friends.