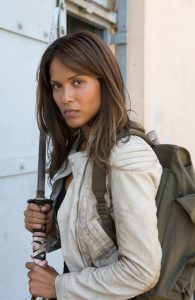 It was in 2007 that Hollywood actress Lesley-Ann Brandt got her early acting start in New Zealand. She made her first appearance in the show Shortland Street. Her first main role on the small screen was in the New Zealand series Diplomatic Immunity. She then gained notice for her role as Naevia in Spartacus: Blood and Sand. Her first role in a movie was in The Hopes & Dreams of Gazza Snell.
She reprised her role as Naevia in Spartacus: Gods of the Arena. At the same time, she appeared in the film InSight. She went on to star in the TV movie Zombie Apocalypse. She next played recurring role Lamia in the TNT series The Librarians. She also played Naomi Cox in the show Single Ladies. She achieved further success on television thanks to her role as Mazikeen in the Fox series Lucifer.
The actress maintains her slender physique and overall health by working out as regularly as she could. She also said how exercising can help her deal with stress, which gives her more reason to work out more often. Being asked how she handles stress in the acting industry, she answered: "Going to the gym helps, I try to be active at least once a day." She also shared how her training experience while shooting for Gladiator made her even more active and generally stronger.
Talking about Gladiator camp, she said: "I loved Gladiator Camp! It really pushes you. That's why I struggle with things like yoga, I need to be pushed. I'm hoping to find a yoga class that inspires me with a hardcore teacher, because I have no patience for yoga right now. I want to be yelled at, you know? 'Drop and give me twenty!', I need that. That's the reason why I love Barry's Bootcamp, because it gave me the push I needed."
"At gladiator camp, they didn't really give me any concession for being a girl. I went through what they went through, and (the trainers) were like ' you wanted to do camp…go do camp!'. Your body hates you in the beginning but then muscle memory kicks in, and you get stronger and it transforms you,' she added.