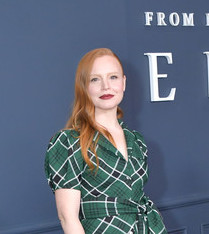 Lauren Ambrose first got into acting during the early '90s. Initially, she started her career playing one-time roles in some television shows. Her first recurring character on the small screen was as Myra Wringler in Party of Five. During this period in 1997, she made her cinematic debut in the film In & Out. She next had a supporting role in the film Can't Hardly Wait.
In 2000, she starred in the films Swimming and Psycho Beach Party. After this, she came to prominence for her role as Claire Fisher in the award-winning series Six Feet Under. For her performance, she received Primetime Emmy nominations for Outstanding Supporting Actress in a Drama Series. After the series ended in 2005, she starred in some films, including Starting Out in the Evening, A Dog Year, Cold Souls, and The Other Woman.
She also starred as Coco Tompkins in the short-lived sitcom The Return of Jezebel James. In 2009, she was praised for her performance as the lead in the TV movie Loving Leah. She then starred as Jilly Kitzinger in the British series Torchwood: Miracle Day. She went on to star in the TV film Deliverance Creek, as well as starred as Debbie Morgan in the series, Dig. Since 2019, Ambrose stars as Dorothy Turner in the web series Servant.
Lauren Ambrose keeps her body fit and strong by working out. While she doesn't do any intense exercises, she makes sure she's healthy by following an active lifestyle. Doing work as an actress also keeps her naturally toned. In fact, she lost her baby weight years ago not by engaging in some vigorous workouts but by starring in a play.
"I lost weight because I did a play," said the actress. "Honestly, doing Shakespeare – especially Juliet – is like running a marathon every night." Of course, she also does cardio, yoga, and Pilates whenever she can. She loves to walk, run, and engage in several outdoor activities.