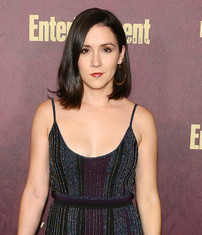 Hollywood star Shannon Woodward started her entertainment career in 1991, appearing in the sitcom Clarissa Explains It All. She next acted in some television movies in the next couple of years, such as in Tornado! and True Women. In the 2000s, she appeared in an episode of Crossing Jordan, Malcolm in the Middle, Greetings from Tucson, Without a Trace, Boston Public, and many others. She also appeared in some episodes of Grounded for Life.
Later in 2005, she made her cinematic debut in the film Man of the House. She next had performances in the films The Quiet, The Comebacks, The Haunting of Molly Hartley, and The Shortcut. From 2007 to 2008, Woodward starred as Di Di Malloy in the television series The Riches. It was, however, her role as Sabrina Collins in the sitcom Raising Hope that gained her substantial attention. The said series aired on Fox from 2010 to 2014.
During this period, she also had performances in the films Girlfriend, Adult World, and Search Party. After Raising Hope, she starred in the movies The Breakup Girl, The Veil, and All Nighter. Woodward recently became further known for her role as Elsie Hughes in HBO's Westworld. After this, she starred in the movies Ode to Joy and Happily.
Shannon Woodward maintains her healthy figure by eating conscientiously. Already in her mid-30s, she has since learned to avoid processed foods. She's cut back on anything sugary and she generally goes easy on the carbs. Instead, she nourishes her mind and body with healthy foods. Mostly, her diet plan consists of fish, chicken, salads, fruits, and whole grains, to name some.
For breakfast, she tries to start her day right with a bowl of oatmeal and a side of fruits or egg with toast. Lunch and dinner are usually lean meat with salads, though dinner is almost always lighter than lunch. She has food cravings, but she tries to be smart about it by simply not overindulding.