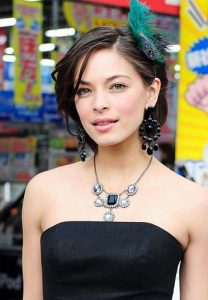 Canadian actress Kristin Kreuk first portrayed Snow White in the made-for-television film Snow White: The Fairest of Them All in 2001. This marked her acting and screen debut. That same year, she starred as Laurel Yeung on the Canadian series Edgemont, which aired from 2001 to 2005. During this period, she even achieved greater stardom for starring as Lana Lang on the US series Smallville, for which she became widely known for. She was part of the series' main cast from 2001 to 2009.
Simultaneously, she started acting in movies, too, starting with 2004's Eurotrip. She next starred in Partition and portrayed Chun-Li in Street Fighter: The Legend of Chun-Li. After Smallville, she starred on the miniseries Ben Hur and played Hannah in 4 episodes of Chuck. From 2012 to 2016, she played the lead role of Catherine Chandler on The CW series Beauty & the Beast. Meanwhile, she also had other roles in the films Vampire, Irvine Welsh's Ecstasy, and Space Milkshake. As of 2018, she stars as Joanna Hanley on the new Canadian series Burden of Truth.
The 36-year-old actress lives an active lifestyle. She works out on a regular basis and trains, even more, when a specific role requires her to do so. For instance, her role as an NYPD detective in Beauty & the Beast was physically demanding with all the action scenes she needed to perform. But the Canadian beauty admitted she didn't need to increase her workout regimen to meet the physical requirements of her character because her body was already up for the challenge.
"I am pretty physically fit and capable to a certain degree and I just work out," said Kreuk. "I don't do as much yoga as I did before because it's harder to get to classes because I'm more at the gym than I was before, which changes my physicality to a certain degree."