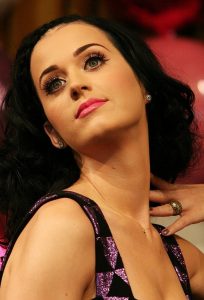 American singer-songwriter Katy Perry started as a gospel singer. Her first album was, Katy Hudson, was released in 2001. It contained gospel music and was unsuccessful. She ultimately transitioned to pop music. She found success in 2008. This was upon the release of the song "I Kissed a Girl". She later released her second studio album, One of the Boys. This made her an international star. Her next album, Teenage Dream, was released in 2010. It was also widely successful. It spawned the hit songs "California Gurls" and "Teenage Dream". Her subsequent album, Prism, was launched in 2013. This produced the songs "Roar" and "Dark Horse". She's also a voice actress. She voiced Smurfette in the film The Smurfs and its sequel. She's currently working on her fifth album.
The big-time celebrity is widely known for being a performer. She also has a remarkable beauty that makes her even more remarkable. Standing at 5'8, Katy is also known for her sex appeal courtesy of her curvy figure. The actress maintains her healthy and sizzling body by eating nutritious food. She also takes the time to work out. As for her diet, it is reported that she practices Harley Pasternak's Five Factor Diet. This entails you to eat five small nutritious meals a day and to exercise five times a week.
In an interview with People magazine, she revealed that her diet is all about going light. She mostly eats brothy soups, grilled chicken, whole grains like quinoa, and grilled asparagus. Her other source of vitamins and other nutrients are from drinking fresh-pressed juices and coconut water. Generally, she concentrates on eating a balanced diet to sustain the energy needed for her exciting performances. This is also to fortify her resistance to diseases. In addition, the celebrity has a salt tooth, which means she sometimes craves for something salty. But of course, she opts the healthier option. These mostly are quesadillas with turkey, black beans, and low-fat cheese.