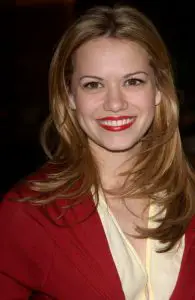 It was in 1992 that Bethany Joy Lenz started her Hollywood career. She made her debut in Psalty's Salvation Celebration. She later landed her first notable role as Michelle Bauer Santos in the soap opera Guiding Light. After more guest roles, she landed her big break as Haley James in One Tree Hill. She starred on the show in its nine-season run from 2003 to 2012. Simultaneously, she starred in the film Bring It On Again. After One Tree Hill ended, she appeared as a recurring character in Dexter. This year, she starred in the movie Extortion. She also played Morgan, a recurring role in Colony. Her latest work on the small screen is as Jenny in Grey's Anatomy. She's also starred in the TV film Snowed-Inn Christmas.
The 36-year-old actress stays in shape by living a healthy lifestyle. Despite her busy schedule and being a mother of one, which surely keeps her busier, the actress makes it a point to exercise. She does so not only to stay slim and maintain her healthy weight, but to also stay strong and healthy overall. She knows that working out on a regular basis doesn't only benefit her physical self, it also benefits her mental health. So, she keeps exercises whenever she can to improve her mood and energy. With this, she becomes more energetic and efficient with her daily tasks as an actress and a mother.
In an interview, the One Tree Hill star became candid about her fitness routine. She shared: "My body takes pretty quickly to physical activity. It just sort of wakes up and sucks in! I enjoy Pilates, 15-20 minutes on the treadmill, free weights, dancing, walking… the basics, I guess." As she said, she doesn't have any specific workout routine. She just contents herself with the basics. The most important thing for her is that she's active.