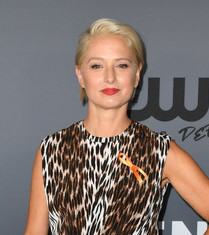 Hollywood star Katherine LaNasa first appeared in the 1990 film Catchfire as an extra. She later had her first credited role on the big screen, playing the role of Monica Ambrose in the 1994 movie Flashfire. She next had supporting/starring roles in such films as The Disappearance of Kevin Johnson, Kiss & Tell, and Schizopolis, as well as starred in several television films. Back on television, LaNasa mostly guest-starred on multiple TV shows, notably guest-starring as Allison in Almost Perfect.
From 2001 to 2002, she starred as Bess Bernstein-Flynn Keats in the NBC sitcom Three Sisters. She next played recurring characters in The Guardian, Miss Match, and Judging Amy. She also had recurring parts in Two and a Half Men, Justice, and Big Love. During this period, the actress also joined the main cast of the show 12 Miles of Bad Road as Juliet.
In the 2010s, LaNasa landed recurring roles in Longmire, Devious Maids, Dynasty, Truth Be Told, and Future Man. Also, she starred as Sophia Bowers in Deception and Adriana in Satisfaction. This year, she began starring as Gloria Grandbilt in the new series Katy Keene. In the movies, her latest film performance was in 2016's Love Is All You Need?, which she also produced.
To keep herself fit and healthy, Katherine LaNasa practices a healthy lifestyle. She eats clean and stays active as far as her lifestyle is concerned. She loves to run, bike, and do yoga. As for her diet plan, it's simple and clean. Most of the time, she has gluten-free and organic food, focusing on having a plant-based diet. The actress has also cut back on meat and dairy so she rarely eats something that's high in carbs and fat.