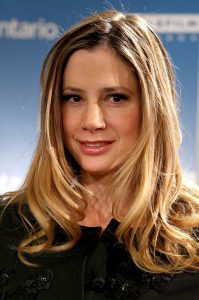 Hollywood star Mira Sorvino had her career beginnings in 1985, first appearing as an extra in a film. In the '90s, she continued pursuing an acting career, finally making her first credited role in the 1993 movie Amongst Friends. Prior to that, she made her television debut as Sophia Eva McCormick De Castro in the teen drama series Swans Crossing. She next appeared as Conchita Closson in 5 episodes of The Buccaneers. In 1996, she portrayed Marilyn Monroe in the made-for-television film Norma Jean & Marilyn. She also had roles in the films Quiz Show, Barcelona, and Sweet Nothing.
Her breakthrough came as Linda Ash in Woody Allen's Mighty Aphrodite. For her performance, she was awarded the Oscar for Best Supporting Actress. Her next prominent role was as Romy White in the comedy film Romy and Michele's High School Reunion. At the same time, she starred as Dr. Susan Tyler in the movie The Mimic. In the 2000s, she had performances in the films WiseGirls, Gods and Generals, The Final Cut, Reservation Road, and Like Dandelion Dust. Meanwhile, she became more active on TV in the 2010s. She played Sara in Falling Skies and joined the main cast of the short-lived series Intruders as Amy Whelan. More recently, she had recurring roles in the shows Condor and Modern Family.
The 51-year-old actress takes care of her health by being cautious of what she eats. "I try to eat healthy. I avoid pesticides in food and I try to eat organic as much as possible and locally grown," said the actress. Being a foodie, the actress also revealed that she sugar is her guilty pleasure.
"I definitely like sugar too much. I used to eat a piece of cake instead of a meal — which is ridiculous. But I don't do that anymore. I used to bake a lot, too, but I don't anymore because I can't resist the temptation. Now I try not to keep sugary things in the house so I don't succumb to them," she explained.