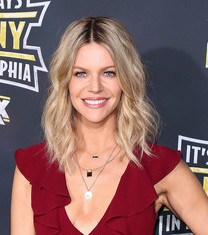 Kaitlin Olson had her career beginnings in the early 2000s. During her early years in entertainment, she appeared in the movies Eyes to Heaven, Jacks, and Coyote Ugly. She later starred in the independent film Meet the Marks. That same time, she made her television debut as Traylor in the ABC sitcom The Drew Carey Show. She played the said part between 2002 and 2004. Around this period, Olson also acted in some short films.
She went on to appear in one-time roles in the TV shows Miss Match, Significant Others, George Lopez, and Out of Practice. She next played Hartley Underwood in some episodes of The Riches. After this, she played a supporting role in the film Weather Girl. In the 2010s, Olson first had voice roles in the animated shows Unsupervised, Brickleberry, and Bob's Burgers. She simultaneously played Ashley in some episodes of New Girl. Around this period, Olson had performances in the films Leap Year, Held Up, and The Heat.
She has since acted in the feature films Vacation and Arizona, as well as played Destiny in the animated film Finding Dory. Her first lead role on the small screen came in 2017 as Mackenzie "Mickey" Molng in the Fox series The Mick. She played the title role until the following year. Olson has also been starring as Sweet Dee in the long-running series It's Always Sunny in Philadelphia. This year, she starred as Cricket Melfi in the new series Flipped.
Kaitlin Olson keeps her body in amazing condition by eating healthily and performing her workout routine. "I live with a man who needs to work out hard at least six days a week or he'll explode," said the actress. "Lately I've been working out twice a week. [I do] yoga once during the week and a weights circuit with Rob in our gym on the weekend."