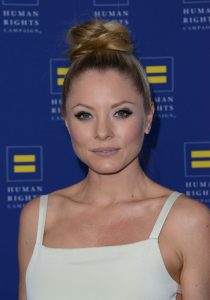 American actress Kaitlin Doubleday had her career beginnings in the 2000s. She started her work by making appearances in such features as Catch Me If You Can (debut) and Freshman Orientation. She also acted in the independent film Waiting… starring Ryan Reynolds and Anna Faris. She then landed her first starring role on the small screen. This was as Kate McKinney in Cavemen. The show, however, was canceled after its first season. The next few years she made plenty of guest appearances on TV. She recently played Rhonda Lyon in Empire. She next starred as Jessie Cane in Nashville. During this period, she's also acted in some films.
The 33-year-old actress stays in shape by choosing the right food. She mostly focuses on eating a healthy diet. In an interview, she got candid about her eating habits. She said: "I'm a pescatarian. Perhaps one day I'll become a full-fledged vegetarian, but I love sushi!" She also shared about how she's not strict when it comes to her diet. She explained: "I hate restricting my food. I enjoy rice in my salads and I like being able to drink wine when I feel like it." The Empire actress also shared about her one favorite snack – popcorn. She said she has it every day.
To make it healthier, she uses olive oil. She revealed: "I use a tablespoon of olive oil to cook the popcorn and then add another tablespoon on top. I also use a bit of sea salt." In order to make sure that she's hydrated all day long, she drinks 6 huge glasses of water daily. For breakfast, she likes having fruits and hot tea with Splenda and soy milk. For lunch, she usually has a small bowl of veggie chili with a couple of raw chips and ¼ avocado with lemon and sea salt. For dinner, she likes having carrot and avocado salad and a falafel wrap.