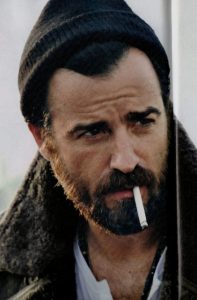 The actor has been in the show business for several years now, though it was only in the 2000s and 2010s that he became more recognizable among audiences. His first significant role was in Mulholland Drive directed by David Lynch, followed by Charlie's Angels: Full Throttle and Inland Empire. He debuted as a writer in Tropic Thunder, as well as served as an executive producer. He was next credited as writer for Iron Man 2. He then starred in the films Your Highness, Wanderlust, and will star in the upcoming film The Girl on the Train. He's also a TV actor, appearing on The District and Six Feet Under. He currently stars on The Leftovers, a show that airs on HBO.
Justin Theroux has consistently received praises for his buff and lean physique, something that he mostly showcases in his film and TV roles, which isn't a bad thing at all. His wife Jennifer Aniston dished about him having a great body without making any astounding efforts. Jennifer said it's genetic for Justin to have his current physique. The actress said: "He can work out or not and he has that body. It's not fair!" But if there's one thing admirable about Justin, it's his dedication to eat right and healthy.
According to his wife, his fabulous body and lean physicality is a result of his healthy eating. For one, Justin does not include sugar in his diet. He feels better when the food he eats are all sugar-free. In another interview, Jennifer shared how she and Justin love to cook in the kitchen. You know what they both love to cook and eat together? Italian food. They make carbonara pasta together and use eggs from their own chickens and when they want it to be less fatty they use turkey bacon instead of real bacon, as well as eggs and parmesan. They don't use oil, butter, and creams and use pasta water to make it juicier instead.