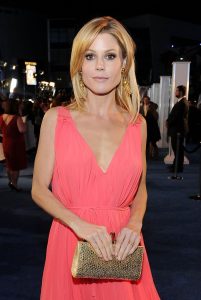 It was in 1992 that actress Julie Bowen got her start with her debut in the soap opera Loving. Her first recurring role was in Extreme while her first notable role was as Roxanne Please in ER. During the '90s, she also performed in the movies Runaway Daughters, Happy Gilmore, and Multiplicity. From 2000 to 2004, she became widely known for her role as Carol Vessey in Ed. She later landed the role of Sarah Shephard in the ABC series Lost. Following this, she also gained recognition for her role as Denise Bauer in Boston Legal.
She later played Lisa in 8 episodes of Weeds. In 2009, she started starring as Claire Dunphy on the ABC sitcom Modern Family, a role she still currently plays. This also earned her acclaim, winning a Primetime Emmy Award for Outstanding Supporting Actress in a Comedy Series in 2011 and 2012. While on the show, she has appeared in the movies Crazy on the Outside, Jumping the Broom, Horrible Bosses, Knife Fight, and Life of the Party.
She may be nearing her 50s but looking at her, it's definitely not the case. So, what's her secret? For one, the Modern Family star tries her best to workout more frequently despite her crazy schedule and the fact that she is a mother of three kids. Aside from exercising, she also makes an effort to focus on a healthy and well-rounded diet. "I was always good, healthy eater. Nothing processed, nothing fried," she said.
She went on to say: "I'm a bit of a boring creature of habit. I'm very consistent in eating pounds of kale." But after becoming a mom, she allows herself to have indulgences here and there. "I eat healthily, but I am just as apt to have a bowl of cereal for dinner as I am to have, like, chicken and a salad. And a lot depends on what my kids are eating and what I eat off of their plates. My default mode is that I eat pretty clean salads and chicken," she explained.