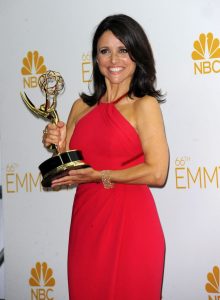 The award-winning Hollywood actress Julia Louis-Dreyfus has been in the acting world since the 1980s. She started her success on Saturday Night Live. After this, she starred on the show Day by Day. She got her major break in the sitcom Seinfeld as the character Elaine Benes. After this ended in 1998, she continued her prolific career on television, beginning with a lead role in Watching Ellie, which was short-lived.
Nonetheless, she enjoyed success again after playing the lead role Christine Campbell in The New Adventures of Old Christine. She also served as producer on the show. Since 2012, she has been playing lead character Selina Meyer in HBO's Veep. She has garnered television awards since her days from Seinfeld where she got a Golden Globe for Best Supporting Actress. She has also won Primetime Emmy Award for Outstanding Lead Actress in a Comedy Series one time for The New Adventures of Old Christine and six times for Veep.
The 56-year-old talks about her fitness habits. Despite her sweet tooth, she balances it out by exercising. Talking about her physical efforts, she said: "In a perfect world, I'd do it five times a week. Honestly, though, it's less than that. But if I go a few days without my fitness workouts, I always come back to it. I find I actually crave it. It makes a huge difference in terms of my metabolism and keeping my weight steady. When her schedule is tight, she tries to work out at home while doing other stuff.
She said she exercises on her elliptical machine while watching television. She said: "It's a very efficient way of fitting in exercise. When I can, I try to go for a four-mile run. I love to break a sweat. If I've gotten in a huge run, I feel like I've really done an effective workout." She also loves hiking. "There's something about the ritual of moving forward along a trail, pausing every now and then to look at the view or smell a flower. It's a physical escape as well as a mental one," she said.