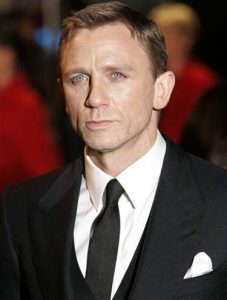 English actor Daniel Craig is now an international star courtesy of his golden opportunity to portray James Bond in the latest James Bond films, a role that has been portrayed by the likes of Sean Connery and Pierce Brosnan. Prior to reaching this kind of stardom, he was already a prolific actor first on stage and ultimately on screen. He first had a notable role in Elizabeth, and eventually in Lara Croft: Tomb Raider. He portrayed Ted Hughes in Slyvia and was acclaimed for his performance in The Mother, as well as in Layer Cake and Enduring Love. Of course, as everyone knows, it was as James Bond in Casino Royale when he achieved international prominence. He has reprised the role in the sequels Quantum of Solace, Skyfall and Spectre. Other roles in the movies are The Invasion, The Golden Compass, Cowboys & Aliens and The Girl with the Dragon Tattoo.
We all know that he was amazing as James Bond in the recent films, which is interesting because people made a fuss in the beginning over his being cast for the role, with them saying he wasn't fit for the part. But then he all proved them wrong, especially in Skyfall when he even received nominations including one from BAFTA. For his age, which is 48, Daniel looks very lean and fit. Normally, he follows a healthy lifestyle by working out regularly and eating clean and healthy. But for his role as James Bond, he focused more on getting leaner and healthier.
Basically, he quit smoking first and foremost and he was only allowed to drink alcohol on twice a week, specifically on Fridays and Saturdays. Then he would consume 50% proteins, 30% healthy fats, and 20% carbs per day. His typical diet would consist of two scrambled eggs with bread for breakfast, fruits and a protein shake for his morning snack, white meat, brown rice and potatoes for lunch, nuts and a protein shake for his afternoon snack, and meat and vegetables for dinner. To keep himself hydrated, he would also make sure to consume two liters each day.