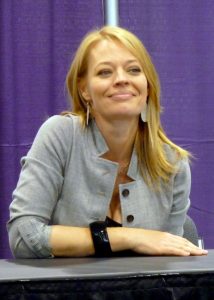 Hollywood star Jeri Ryan debuted in the 1991 TV movie Nightmare in Columbia County. That same year, she made one-time appearances in such TV shows as Who's the Boss?, Top of the Heap, and Reasonable Doubts, among others. Her first starring role was as Juliet Stewart in the short-lived series Dark Skies. After that, she landed the character Seven of Nine in the sci-fi series Star Trek: Voyager, which aired from 1997–2001.
Her role on the show also served as her breakthrough role on television. For her performance, she received a Saturn and Satellite awards and nominations. Following this, she starred as Ronnie Cooke in the Fox series Boston Public, which she starred in from 2001-2004. She next appeared as Sherri in the sitcom Two and a Half Men.
Other remarkable roles on TV include Charlotte Morgan in The O.C., Jessica Devlin in Shark, and Tara in Leverage. She continued her successful TV career in the 2010s, this time starring as Kate Murphy in the ABC series Body of Proof. Her latest role was as Veronica Allen in the Amazon series Bosch. Meanwhile, she had also appeared in the feature films The Last Man, Disney's The Kid, Dracula 2000, Down with Love, and The Relic.
Apart from her clean diet plan, the actress maintains her good health by living an active life. When her schedule gets crazy, she manages to squeeze some time in for exercise, performing the simplest routine like running and other cardio exercises. In general, the Jeri Ryan workout routine consists of yoga, Pilates, cardio, and moderate strength training.
She loves to work out first thing in the morning, though she admits she's not consistent. She's also very active with sports and outdoor activities like hiking. She loves going to the beach and swim and does fun things that keeps her very mobile. Being idle, on the other hand, has proven to give her nothing.