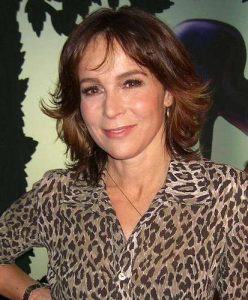 Hollywood star Jennifer Grey got her start as an actress in the 1980s. During her early years, she had roles in the films Reckless, Red Dawn, and The Cotton Club. She also appeared in the show ABC Afterschool Special. In 1986, she gained recognition for her role as Jeanie Bueller in the movie Ferris Bueller's Day Off. It was, however, her role as Frances "Baby" Houseman in the 1987 film Dirty Dancing that earned her popularity. For her performance, she was also nominated for a Golden Globe for Best Actress. She next starred in the film Bloodhounds of Broadway.
In the '90s, she mostly starred in made-for-television films. She later starred as herself in the series It's Like, You Know… The following decade, she had roles in the films Bounce, Ritual, Redbelt, and Keith. She also appeared as Daphne in the show John from Cincinnati. In 2010, she joined the reality show Dancing with the Stars where she was declared the winner. More recently, she starred in the film In Your Eyes and played Judy Meyers in the series Red Oaks. Her latest movie is 2018's Untogether.
The actress nears her 60s but she maintains her good health by following a clean diet plan. With her age, she's developed a keen sense of discipline when it comes to her food choices. She naturally avoids processed food simply because they don't make her feel great. Consuming clean foods, on the other hand, makes her feel good inside and out. In an interview, she revealed that her favorite meal to make is kale salad with other healthy toppings to make it yummier and healthier, of course.
She said: "I make kale salad that I cannot stop eating — I'm so obsessed. I'll take out all the ribs, tear the kale into tiny pieces, and throw them in a bowl with really good olive oil, very finely chopped shallot and lots of lemon juice and salt." She continued: "Before serving, I take a couple scoops of fresh avocado, and toast flaxseeds and put them on top."