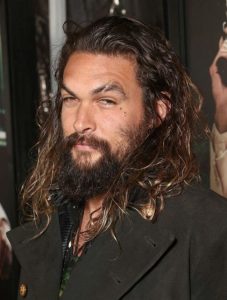 Hollywood actor Jason Momoa got his start in the late 1990s. He made his debut with a starring role in the TV series Baywatch: Hawaii as Jason Ioane. He reprised his role in the TV film Baywatch: Hawaiian Wedding. After this, he played Frankie Seau in the show North Shore. He gained further fame for starring as Ronon Dex in Stargate Atlantis, which he played from 2005 to 2009. During this period, he also appeared in the films Johnson Family Vacation and Pipeline.
In 2011, he played the titular character in the movie Conan the Barbarian. It was also that year that he played Khal Drogo in Game of Thrones. After his role on the show ended, he starred in the movies Road to Paloma, Debug, and Wolves. He then successfully got the part of Aquaman in Batman v Superman: Dawn of Justice. He reprised his role in 2017's Justice League. He will also star in his own film Aquaman to be released this year. In addition, he stars as Declan Harp in the series Frontier.
The actor obviously works out. It is also apparent that his workout regimen is intense, seeing how ripped he is. But he doesn't always do it in the gym. So, what's his fitness regimen like? He may have won the role of Aquaman but Jason actually doesn't enjoy swimming as an exercise. "Swimming can be boring. To me, it's like going on a treadmill," the actor said. He revealed that he's more into outdoor activities and sports rather than following a monotonous routine at the gym.
He went on to say: "It's very hard sometimes to just work out. It's monotonous and you can get stuck in a rut. I get bored, so I do a lot more boxing, surfing, climbing – I do the things I love to do when I'm not training for a role. When I have to change my body type, then we just switch it up. Doing a lot more weights for size; a lot more cardio for definition."