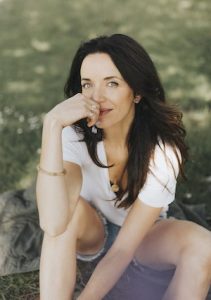 Michelle Morgan started her professional acting career in 1999. She debuted in the television movie Road Rage. Her first cinematic role was as Debra Moynihan in the 2007 horror film Diary of the Dead. At the same time, she acted in the made-for-television movie Fire Serpent. The following year, she landed a role in the mockumentary comedy film Confessions of a Porn Addict.
She also appeared in an episode of the miniseries Die Patriarchin, as well as in the TV documentary Final 24. Morgan's breakout role was as Samantha Louise 'Lou' Fleming in the long-running Canadian series Heartland. She's been part of the show's main cast since 2007. While on the show, she's also acted on other TV programs, including Across the River to Motor City, Stargate Atlantis, The L Word, Bunny Hug, and Package Deal.
She went on to guest-star in Supernatural and The Good Doctor. She recently played Gabi Kane in The CW's Batwoman. Also, she starred in the TV films While You Were Dating and A Very Country Christmas. Meanwhile, her most recent work in the movies was in 2018's Deep Space. The actress has also ventured into directing and producing short films.
Michelle Morgan stays fit and healthy by sticking to a regular workout routine. "I prioritize getting exercise. It's important for my mental and physical well-being," said the actress. "I run, do Lagree, lift weights, hot yoga and use the elliptical machine. I like to mix it up. I generally do cardio two to three times and week and a hard workout two to three times a week." Despite her busy schedule, the actress makes great efforts to squeeze some time in for her fitness regimen. Exercise is a crucial part of her day-to-day that helps her maintain her healthy weight and keep her strong.