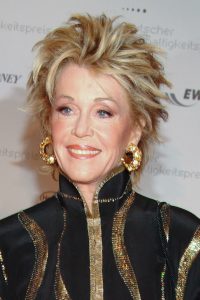 Jane Fonda debuted as June Ryder in the 1960 film Tall Story. She starred in a couple more films after that, garnering attention for performances in such films as Period of Adjustment. Her performance in the 1969 film They Shoot Horses, Don't They? earned her an Academy Award nomination for the first time. In the 1970s, she won the Best Actress Award at the Oscars twice for her roles in the movies Klute and Coming Home.
She also received nominations for her performances in the films Julia, The China Syndrome, On Golden Pond, and The Morning After. The box-office success of her movies Fun with Dick and Jane, California Suite, The Electric Horseman and 9 to 5 contributed to her massive prominence during this period. In the 1980s, she released her exercise video, Jane Fonda's Workout, which became a global hit.
In the 1990s, she took a long hiatus from acting. But she ultimately returned to the screen with the 2005 romantic comedy film Monster-in-Law. She next starred in Georgia Rule in 2007. Once again, she became more active as a film actress in the 2010s. She starred in the feature films The Butler, This Is Where I Leave You, Youth, Our Souls at Night, and Book Club.
It's no wonder that Jane Fonda maintains her fit figure through a consistent workout routine. When it comes to exercises, she's not unfamiliar. Her hugely successful workout videos prove that she's disciplined when it comes to her fitness regimen. Speaking in an interview, she spoke about her workout habits.
"Whatever kind of workout you settle on, it should include the Big Three of exercise for health and fitness – aerobics, resistance exercises, and stretching," said the actress. "The absolute minimum for effective exercise is three times a week on alternate days for at least half an hour," she added.