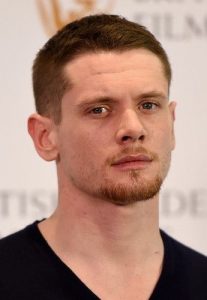 Jack O'Connell first appeared in the television series Doctors in 2005, marking his screen debut. That same year, he appeared as Ross Trescott in the TV show The Bill. Later in 2006, he had his first cinematic role in the film This Is England. He then booked one-time roles in the British shows Waterloo Road, Holby City, and Wire in the Blood. He simultaneously had performances in the films Eden Lake and Harry Brown.
O'Connell's breakthrough role on television was as James Cook in Skins. After this, he portrayed former football player Bobby Charlton in the TV movie United, as well as starred as Eamonn Docherty in the crime drama series The Runaway. As he's slowly gaining traction in his acting career, he landed several movie roles in the beginning of 2010s, including Weekender, Tower Block, Private Peaceful, The Liability, Starred Up, '71, and 300: Rise of an Empire. In 2014, he portrayed the role of Louis Zamperini in Angelina Jolie's movie Unbroken, which is considered his movie breakthrough. He next played Kyle Budwell in the film Money Monster opposite George Clooney.
In 2017, he starred as Roy Goode in the Netflix series Godless, as well as starred in the films The Man with the Iron Heart and Tulip Fever. Proving his knack for versatile acting, he portrayed Cameron Todd Willingham in the biographical drama Trial by Fire. In 2019, Jack O'Connell starred in the features Seberg and Jungleland. More recently, he starred opposite Colin Farrell in The North Water and starred alongside Olivia Cooke in Little Fish.
What is the Jack O'Connell Diet Plan?
Jack O'Connell takes every role he gets seriously, exerting much time and effort to prepare both physically and mentally. As part of his lifestyle, he already eats clean and works out on a regular basis, however, his diet and workout routine sometimes depend on the role he's preparing for. For instance, for his role in the movie Unbroken, he had to stick to a strict diet.
The actor shared that he only consumed 400 calories per day and was literally starving, just like his character in the film. In real life, he takes care of his body and his overall health by eating well. "I eat pretty clean regardless. I don't like being too regimented when it comes to what I can eat, as long as I'm doing it smart," said the actor. "I was strict on other things though, like no sauce. I also try to get my food sourced locally as often as possible. Fresh is always best."