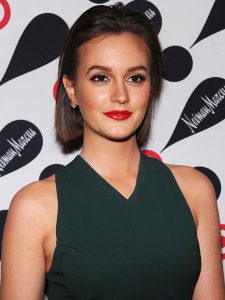 Hollywood star Leighton Meester had her beginnings in the late 1990s. She debuted in an episode of the TV series Law & Order. In the 2000s, she had one-time roles on such TV shows as Boston Public, Once and Again, and Family Affair. Her first recurring role was as Nicki Porter on Tarzan. Meanwhile, in 2003, she made her film debut in Hangman's Curse. She went on to have recurring parts on TV — as Kendall on 7th Heaven, Justine Chapin on Entourage, Debbie Pendleton on 24, and Carrie Bishop on Veronica Mars. She later starred as Savannah Barnett on the short-lived series Surface.
She then played Ali Johnson on House and Megan on Shark. She rose to fame after landing the role of Blair Waldorf on Gossip Girl, a role she played from 2007-2012. While on the show, she also starred in the films Drive-Thru, Remember the Daze, Killer Movie, Date Night, and Going the Distance. In the early 2010s, she starred in the movies Country Strong and The Roommate, which earned her Teen Choice nominations. She later had performances in the movies Monte Carlo, The Oranges, That's My Boy, and Life Partners. Other films include The Judge, Like Sunday, Like Rain, and By the Gun. In 2017, she played the role of Deborah Revere on the Fox series Making History. As of 2018, she stars as Angie D'Amato on the ABC sitcom Single Parents.
Apart from her diet plan, the actress stays in shape by consistently following her workout routine. Reportedly, she sticks to a 5-factor workout. This means she exercises for 25 minutes a day for 5 days per week. Her workout regimen consists of cardio, strength training, and core exercise. She's also naturally active, which counts as a great source of workout as well. When it comes to her diet and fitness, the Gossip Girl star doesn't believe in going for the extremes. She exercises on a regular basis but she doesn't overdo it.