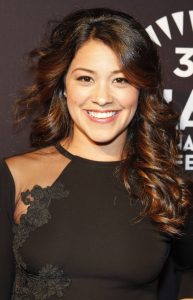 Hollywood star Gina Rodriguez debuted in an episode of Law & Order in 2004. This was followed by a couple more guest appearances on television. In the movies, she first mostly landed minor roles in low-budget films. She later got her first recurring role as Marisol Evans on Army Wives in 2010. At the same time, she starred on the TV movie My Super Psycho Sweet 16: Part 2. From 2011 to 2012, she played Beverly on the soap opera The Bold and the Beautiful. She then landed her first credited role on the big screen with the film Filly Brown in 2012.
She next appeared in the movies California Winter, Enter the Dangerous Mind, and Sleeping with the Fishes. She made her mainstream breakthrough in 2014 as Jane Villanueva on The CW hit series Jane the Virgin. For her performance, she won a Golden Globe for Best Actress in 2015. She still stars on the show up to present. This has also led her to land roles in major Hollywood films. She had supporting roles in the movies Deepwater Horizon and Annihilation. She has four upcoming films, including Catherine Hardwicke's movie Miss Bala.
One of the things the actress does to keep her body healthy and strong is Muay Thai. "I'm the strongest I've ever been. Doing Muay Thai taught me so much about my body. Now I view it as an engine that keeps me active and healthy," she said in an interview. Because her father was a boxing referee, her go-to form of workout has been a "form of fight training", which got her interested in trying Muay Thai in the first place.
Talking about her workout routine, she shared: "My routine is much more extensive—weight training, Muay Thai, boxing, running, and yoga—because I have the time to do it. It's empowering to see the shift in my body. That feeling of strength is amazing. I can even do pull-ups now!" Finding schedule to train regularly has also been hard but she tries her best to work out as much as she can.