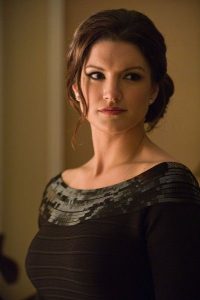 It was in 2007 that Gina Carano started her career in the show business. Her television debut was as a mentor in Fight Girls. Her next stint was in the video game Command & Conquer: Red Alert 3. Afterward, she acted in the direct-to-video movie Blood and Bone. It was, however, her lead role as Mallory Kane in the movie Haywire that brought her to wider success. This led her to appear in mostly action-oriented movies, being an ex-mixed martial artist.
Given this, she played Riley Hicks in Fast & Furious 6. She next acted in the direct-to-video film In the Blood. She also guest-starred in an episode of Almost Human. She next starred in the straight-to-DVD movies Heist and Extraction. In 2016, she played Angel Dust in the movie Deadpool. At the same time, she starred in Kickboxer: Vengeance, which got released straight to video.
Being competitive in MMA before, we can only expect Gina to be totally fit. She has been physically training all her life through her professional practice of mixed martial arts. She initially started with Muay Thai. Aside from her physical training, she stays in shape by eating well. She mostly opts nutritious meals rather than eating processed foods. When asked what's her diet like considering she regularly undergoes intense and vigorous training, she said:
"It's been a long road to get here but I have a very healthy relationship with food. I'm just normal. You go through ups and downs of figuring out how your body responds to food but sometimes you have to cheat and eat some pasta you know? When you start putting too many rules on something you get a bit anal about it and it's counterproductive." She's basically saying that while she eats healthy most of time, she does know how to indulge in her cravings every now and then.