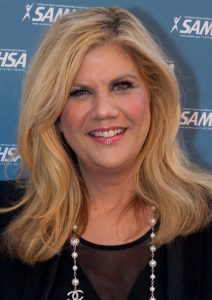 Hollywood actress Kristen Johnston had her career beginnings in the 1990s. She first appeared in an episode of Chicago Hope back in 1994. She later had her first film role in Backfire! Her breakthrough role was as Sally Solomon in the NBC sitcom 3rd Rock from the Sun, which she starred in from 1996 to 2001.
For her role, she won the Primetime Emmy Award for Outstanding Supporting Actress in a Comedy Series twice, in 1997 and 1999. At the same time, she starred as Ivana Humpalot in the film Austin Powers: The Spy Who Shagged Me. Later, Johnston starred as Wilma Slaghoople in the 2000 film The Flintstones in Viva Rock Vegas. After 3rd Rock from the Sun ended, she had recurring roles as Head Nurse Eve Peyton in ER and Helen in Ugly Betty.
She went on to have roles in the films Music and Lyrics, Bride Wars, and Finding Bliss. In the 2010s, she starred as Holly Franklin in the TV Land sitcom The Exes. She played the said role from 2011 to 2015. At the same time, she had performances in the films Life Happens, Vamps, Bad Parents, Lovesick, Swiped, and Hurricane Bianca 2: From Russia with Hate. As of 2018, she plays recurring role Tammy Diffendorf in the CBS sitcom Mom.
Kristen Johnston substantially gained weight in the early 2000s, caused by her unhealthy lifestyle while still starring in 3rd Rock from the Sun. "After a show, you're so hopped up you have a couple of drinks with friends. 'Yeah, I'll stay for another round!'" shared the actress. She also shared how her diet mostly consisted of fries, BLTs, and pizza. But after suffering from a burst ulcer, she decided to change her ways and live healthier. Along with her dedication to stay healthy, she also lost 60 pounds as a result. She quit drinking and added more veggies into her diet along with oatmeal, salads, and salmon. "Focus on your health, not on your weight" is the actress' advice to make the weight loss process easier.