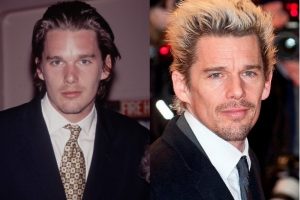 Early Career and Hollywood Success
Ethan Hawke was born on November 6, 1970 in Austin, Texas. He was raised by his mother after his parents had divorced when he was around five. After numerous relocation, they finally settled in New York City. After his mom remarried when he was 10, they lived in New Jersey. During his high school years, Hawke wanted to be a writer, though he eventually became interested in acting, performing on stage when he was 13. He soon appeared in other high school productions. Following his high school graduation, he studied at the Carnegie Mellon University in Pittsburgh, although he decided to drop out when he landed a role in the movie Dead Poets Society.
Initially, he started acting on the screen during his teens, making his movie debut in Explorers in 1985. The movie didn't fare well at the box office, which left the young Ethan disappointed and led him to quit acting for a while. His next film role came four years later with Dad. At the same time, he made his breakthrough when he secured a role in the well-received film Dead Poets Society and his performance in the film was widely lauded as well. This gave Hawke a confidence boost as an actor. His first lead role was in 1991's White Fang, followed by the movies A Midnight Clear and Alive.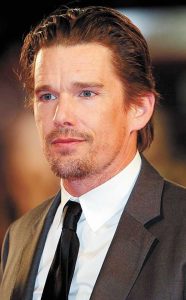 His next role was in the coming-of-age feature Reality Bites in 1994, which also garnered him further recognition. The following year, he received acclaim for his performance in the romantic drama Before Sunrise, which has since spawned the sequels, Before Sunset and Before Midnight. Also in the 1990s, he started directing, initially with Lisa Loeb's music video of the popular song "Stay". In 1996, his dream of being a writer came true when his novel, The Hottest State, was published. His next film project was the 1997 movie Gattaca. It was a critical success, but not a commercial one.
He has since starred in noteworthy performances in the films Great Expectations and The Newton Boys in the late 1990s. In the next decade, he started strong with his portrayal of the title character in Hamlet. It was, however, in the crime action drama Training Day that got him significant acclaim in 2001, followed by Taking Lives with Angelina Jolie. His writing work in Before Sunset in 2004 also earned acclaim as a writer, receiving an Oscar nomination for Best Adapted Screenplay. Over the next few years, he had starred in the movies Assault on Precinct 13, The Hottest State (based on the novel he wrote), Sinister, and The Purge. He again received an Oscar nomination for Best Adapted Screenplay for his work in Before Midnight. In 2014, he received his first Oscar nomination in the supporting actor category for his performance in the movie Boyhood.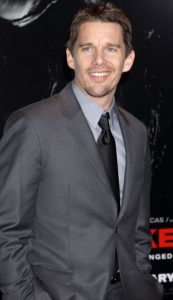 Has Ethan Hawke had Plastic Surgery?
The super handsome and talented Ethan Hawke has captured the hearts of many since the 1980s. Now 45 (turning 46 on November), the actor seems to possess a youthful vibe in him and everyone knows he's still got in him to play romantic roles as a leading man because of his consistent charm. It is also quite obvious that Hawke is not into plastic surgery before of his lines and wrinkles all over his face, which for some, lessens his appeal, but for others, enhances his masculinity by opting to age gracefully. A few years ago, pictures of the actor looking gaunt, his hair dyed blonde, prompted some to suggest that the actor needs to see a cosmetic surgeon asap.
This, however, did not affect Hawke in any way because he understands the pressures of looking great in Hollywood and he knows how to deal with it, which is to ignore such mean comments. Besides, his facial lines are completely harmless to his career because he continues to secure prominent roles in major feature films in Hollywood. He even got an Academy Award nomination about a year ago. Surely, Hawke knows that as an actor, talent and passion is far more important than having a shiny forehead and a flawless face.