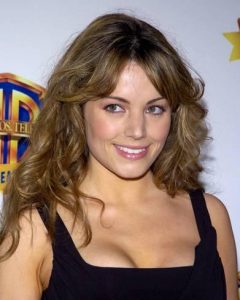 It was in 2001 that actress Erica Durance started her screen career, debuting on TV with a small role on The Lone Gunmen. The following year, she made her big screen debut in the film The Untold. She next starred in the movie House of the Dead. During her early years, she had also made several one-time appearances on television. This includes one-episode roles on The Chris Isaak Show, Tru Calling, Andromeda, Stargate SG-1, and The Collector. She then gained popularity after landing the role of Lois Lane on Smallville, which she played from 2004-2011.
Starting as a recurring character on Season 4, she joined the show's main cast from seasons 5-10. At the same time, she starred on the made-for-television films Island Heat: Stranded and I Me Wed, among others. She also co-starred in the film The Butterfly Effect 2. After Smallville's conclusion, she guest-starred on Charlie's Angels and Harry's Law. She later landed the role of Dr. Alex Reid on the Canadian series Saving Hope, starring on the show from 2012-2017. Following this, she started playing Alura Zor-El on the television series Supergirl, a role she currently plays up to now. She has also appeared in the film Tim and Eric's Billion Dollar Movie.
Apart from her diet plan, the actress takes care of her body and overall well-being by following an active lifestyle. After giving birth to her first child in 2015, she became more productive in terms of exercising. "This year, being pregnant, I got myself a trainer. I've never had a trainer before. I did that specifically because I wanted to train properly and do the proper types of exercises that are needed at this time in my life. This year's focus is to be healthy and to maintain for my baby. After that, I can get into punishing myself a little bit more! the actress said.