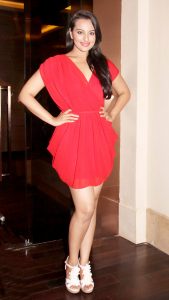 Indian actress Sonakshi Sinha has since established a successful Bollywood career. Though she worked behind the screen during her initial years, she soon became an actress. With her talent and remarkable screen presence, she was able to stabilize her career in her own right. Her first movie was in 2010's Dabangg. This instantly earned her mainstream notice. She has since played female leads in mostly well-known films. This includes Rowdy Rathore, Son of Sardaar and Dabangg 2. She also played the female lead in 2014's Holiday: A Soldier Is Never Off Duty. She proved her caliber for acting courtesy of her performance in Lootera. The movie earned her very first Filmfare nomination for Best Actress.
The 29-year-old Bollywood star hasn't always looked slender. During her initial years, Sonakshi was heavier. But thanks to her disciplined and extensive efforts, she was able to lose weight and achieved a healthier body. Of course she has her healthy diet and regular exercise to thank for. If it weren't for her healthier and active lifestyle, she would not have the slimmer figure she currently enjoys. Of course it's not just a sexier body she's after. It's also being generally healthy and having high energy levels, so that her overall quality of life is enhanced.
Actually, the Dabangg actress managed to shed 66 lbs, which really is a major transformation. The star admitted that it was easy. For one she hated going to the gym. But she knew she had to keep moving. Initially she lost 30 lbs, but she was still criticized for having a voluptuous body. So, she decided she needed to be leaner and stronger. Her everyday workout routine involved a harmonized combination of various exercises. These moves fortified the core muscles, improved flexibility and aided in her efforts to cut down unwanted fat. She also goes to the gym twice a day to workout where she does cardio, functional workout, weight training, spinning and hot yoga.