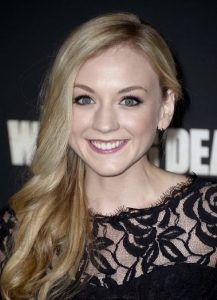 Hollywood star Emily Kinney debuted in short films before appearing on the television special The Gamekillers. Shortly after, she landed one-time roles on Law & Order: Criminal Intent, The Unusuals, and The Good Wife. Her first movie role was in 2009's It's Complicated. Her first recurring role was as Emily on the Showtime series The Big C. Kinney gained popularity after landing the role of Beth Greene on The Walking Dead.
She starred on the AMC series from 2011 to 2015, returning as a guest star in 2018. Simultaneously, she guest-starred on Law & Order: Special Victims Unit, The Following, and Forever. In 2015, she played Nora Everett on Masters of Sex and Nurse Daisy Ryan on The Knick. She later played Brie Larvan / Bug-Eyed Bandit on The Flash and Arrow. Following this, she starred on the Hallmark TV movie Love on the Sidelines.
From 2016 to 2017, she starred as Tess Larson on the short-lived series Conviction. After it ended, she played Casey in 5 episodes of Ten Days in the Valley. More recently, she played Staci Hardwick, a recurring character on the Netflix series Messiah. Also in the 2010s, she had roles in the films Concussion, Papa, and Anhedonia. In addition, Kinney has also pursued a career in music. She released her debut album This Is War in 2015. She previously released the EPs Blue Toothbrush and Expired Love.
The actress watches her health by working out and eating healthily. The Emily Kinney diet plan doesn't include salty and sugary foods, at least most of the time it doesn't. She focuses on having meals that consist of lean proteins, whole grains, complex carbs, and healthy fats. Even when she's busy with work, she tries to start her day right with a healthy breakfast, typically coffee with whole grain toast, or an egg with a fruit. For lunch and dinner, she mostly has fish or chicken with salad.