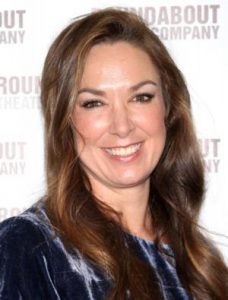 Hollywood actress Elizabeth Marvel had her career beginnings in 1998, debuting in Homicide: Life on the Street. In 2000, she made her film debut in Ten Hundred Kings. At the same time, she got her first notable role on television — as Nancy Parras on the CBS series The District. Afterward, she guest-starred in Law & Order: Criminal Intent, Kidnapped, 30 Rock, and Law & Order. She later portrayed novelist Louisa May Alcott in an episode of the PBS series American Masters, after which she played recurring part Ginny Flynn in Nurse Jackie.
Also in the 2000s, she had performances in the films The Dying Gaul, The Guitar, Pretty Bird, Synecdoche, New York, Burn After Reading, A Dog Year, and The Other Woman. Continuing her career in the 2010s, she first starred as Margaret Leary in the FX network series Lights Out. Following this, she played Rita Calhoun in Law & Order: Special Victims Unit. She also became known for her roles as Alicia Corwin in Person of Interest, Heather Dunbar in House of Cards, and as Constance Heck in Fargo. She currently plays the role of President Elizabeth Keane in the Showtime series Homeland. Other performances on the big screen include roles in The Bourne Legacy, Lincoln, A Most Violent Year, The Congressman, Gifted, and The Land of Steady Habits.
Despite nearing her 50s, the actress stays in shape by following a nutritious diet. While she's at the point in her life where she feels great about herself, she still owes her healthy body to her food choices. Generally, she's conscious of what she eats. As much as possible, she stays away from processed foods. She prefers clean, whole foods, not only for maintaining a slender figure but for keeping her fit and glowing from the inside out. Her diet is mainly comprised of proteins, complex carbs, and lots of fruits and veggies. Drinking lots of water for hydration is also part of her daily regimen.