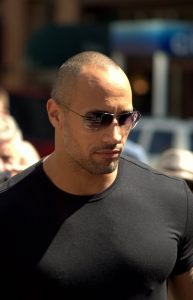 Dwayne Johnson first came to prominence as a professional wrestler in the WWE, working as such for eight years before deciding to pursue acting. He made his acting debut playing Rocky Johnson in an episode of That '70s Show in 1999. Two years later, he played The Scorpion King in The Mummy Returns. He then reprised his role in The Mummy franchise prequel The Scorpion King. Released in 2002, this got him mainstream fame.
He later starred in the films Walking Tall, Be Cool, Doom, and Southland Tales. Later in 2007, he starred in the family comedy film The Game Plan, after which he starred in Get Smart. In the 2010s, Johnson established his Hollywood success with starring roles in the films The Other Guys and Faster. He later played Luke Hobbs in Fast Five, a role he has since reprised in Fast & Furious 6, Furious 7, and The Fate of the Furious, and Hobbs & Shaw.
He also played the lead in the movies San Andreas, Hercules, and Jumanji: Welcome to the Jungle. He went on to star in the comedy film Central Intelligence, as well as voiced Maui in the animated film Moana. In 2017, he portrayed Mitch Buchannon in Baywatch. More recently, he starred and produced the films Rampage and Skyscraper. On television, he currently stars as Spencer Strasmore in the HBO series Ballers.
It's obvious that the actor follows an extensive workout regimen that keeps him all buff and healthy. He changes his routine depending on a certain role he needs to prepare for. In general, though, Johnson is naturally active. Exercise is part of his regular lifestyle.
"For me, training is my meditation, my yoga, hiking, biking all rolled into one. Wake up early in the morning, generally around 4 o'clock, and I'll do my cardio on an empty stomach. Stretch, have a big breakfast, and then I'll go train," said the actor.