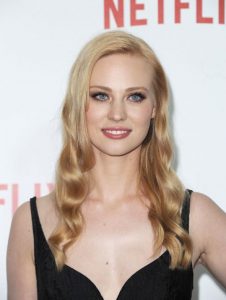 Deborah Ann Woll is an American actress who found her stardom when she was cast as the vampire Jessica on the HBO series True Blood. The show's popularity helped her increase her status in Hollywood, somehow making her a recognizable face among television viewers. After starring on the said show for many seasons, Deborah didn't only gain popularity, but also substantial experience as an actress. With her new-found fame and confidence, the beautiful actress continued her acting journey even after True Blood ended. Now, she's best known for her fierce role on the Netflix series Daredevil. The show has since garnered large following and has been consistent with good reviews from critics, making the redhead actress in a good place of her career.
Because she's all mainstream now, the actress' beauty and towering height is no longer a secret. The combination of her royal-like beauty and curvaceous body surely wouldn't go unnoticed. Thus, it's not surprising when fans of the actress become curious of how she maintains her beauty while staying sexy and fit at the same time. With her regular gig on Daredevil, and other extra stints on the screen, it must be tough for the True Blood alumnus to stay fit and beautiful at the same time. Fortunately, the actress doesn't do much efforts to observe her physical and even her overall well-being.
One thing is that it's in her genes to look so fresh and vibrant. But of course, the actress knows that she also has to do something for her body because long hours of work would surely take its toll. For this reason, she makes sure she eats fresh and healthy foods regularly. Breakfast is an important meal for her so she consumes nutritious foods such as eggs, cereal, and fresh fruits. For lunch, she goes for salads and chicken as her source of proteins, while she opts for some pasta and salad for dinner. Of course, she also indulges in some snacks from time to time like sweets and chips, but she makes sure she doesn't have too much of them. The result? Just look at her.