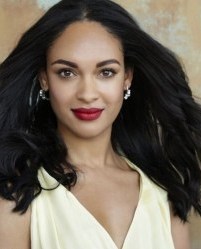 It all started in 2002 for actress Cynthia Addai-Robinson. This was when she debuted in an episode of the TV series The Education of Max Bickford. She next landed one-time roles on the TV shows Law & Order: Trial by Jury, Law & Order: Criminal Intent, and Justice. Afterward, she had roles in the TV films Dash 4 Cash and A.M.P.E.D. She continued making guest appearances on TV, such as on CSI: Miami, Dirt, Entourage, Life, Numb3rs, and CSI: NY.
In 2009, she had her first recurring part as Debbie on FlashForward. In 2011, she had her first movie role in Colombiana. She then became known for her role as Naevia on Spartacus: Vengeance. Shortly after, she reprised her role on Spartacus: War of the Damned. Her next role was on the TV movie Jodi Arias: Dirty Little Secret. She also landed a small role in the 2013 film Star Trek Into Darkness.
From 2013-2016, she played the role of Amanda Waller recurrently. She next starred as Emily West on the mini-series Texas Rising. She later played a supporting role in the action-thriller film The Accountant. From 2016-2018, she starred as Nadine Memphis on the TV series Shooter. More recently, she had performances in the films Closure and Always & 4Ever. As of 2019, she stars as Ramona Garrity on the new series Power.
Apart from her workout routine, the Hollywood star takes care of herself by eating clean. She naturally stays away from sugary and fatty foods. Instead, she fills herself up with lean proteins, complex carbs, healthy fats, and fiber-rich foods.
That's why her diet plan mostly consists of such foods as eggs, whole grains, fish, chicken, nuts, fruits, and veggies. Her meals are quite simple but they're also balanced. Typically, she has brown rice or some potatoes, fish or chicken and a salad on the side. She also has a cheat day where she allows herself to eat whatever she wants, which is pizza and some ice cream.