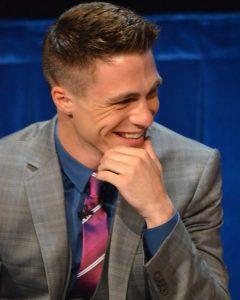 It was in modeling that Colton Haynes first found his niche during his teens. He somewhat became successful and landed numerous modeling gigs. Soon, he transitioned into acting, first appearing in uncredited roles on film and one-episode roles in multiple TV shows. After appearing in the TV movie Always and Forever, he got his first main role on The Gates, only the series was cancelled, same thing with Look: The Series. But for his role as Jackson Whittemore on Teen Wolf, he got mainstream recognition. This was followed by his portrayal of Roy Harper or the Arsenal on Arrow.
The young actor better displayed his physical capacity when it came to doing action-oriented scenes on Arrow. It pretty much helped that he also has the body of someone who's strong and able. Surely, the actor was able to achieve this through his healthy routine of balanced dieting and exercising, which is impressive considering he's only in his 20s. The amount of dedication he throws in to his acting is the same with how he takes care of himself, which is why he looks so amazing.
Because he works out to maintain his impressive biceps and chiseled-looking body, it also is crucial for the actor to load up essential nutrients that should compliment his physical efforts to work out. One thing he does to keep in shape is to cut his intake of carbs, which is something that he finds challenging because of where he came from, which is Kansas, where burgers and ranch dressings are typical. He doesn't stop himself from eating something he loves, though. He just focuses on eating in moderation and combining other nutritious foods into his meals. For instance, he eats chicken or steak in restaurants but he makes sure he also has some veggies on the side.