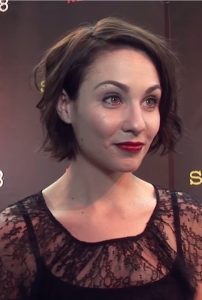 It was in 2008 that actress Tuppence Middleton got her start in the show business. She made her debut in the American series Bones. She then made her cinematic debut in the British film Tormented. In the 2010s, she became more active with roles in the movies Skeletons, Chatroom, Cleanskin, and Trap for Cinderella, among others. She also had notable roles in the TV show Sinbad and in the miniseries Spies of Warsaw.
In 2015, she started playing the role of Riley Blue in the Netflix series Sense8. At the same time, she also starred in the show Dickensian. She also portrayed Helene Kuragina in the BBC miniseries War & Peace. Other film credits include The Imitation Game, Jupiter Ascending, Spooks: The Greater Good, and The Current War. She's also recently appeared in an episode of Philip K. Dick's Electric Dreams.
The Sense8 star may try to stick to a healthy lifestyle but going to the gym isn't one of them. She tries her best to follow an active physical routine as means of exercising. This includes the basics such as walking and running, playing sports and hiking. However, it becomes a different story when gyms are involved. In an interview, talking about her openness to star in mainstream Hollywood films, such as the Marvel superhero movie installments, Tuppence said that the physical training needed to star in such movies discourages her.
"They always make them train really hard for those things. I've only done that once for Jupiter Ascending and it was hell," she said. She went on to say: "I've been told so many times that I should go to the gym to get my anxiety and frustration out. But it just makes me feel pure, concentrated dread." With this, it's pretty obvious Tuppence is not really into gyms and working out but she's managed to stay slender and toned nonetheless.