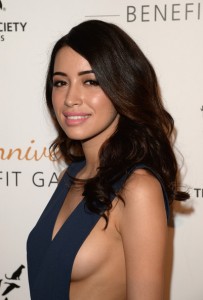 American actress Christian Serratos is now a familiar face among television audiences courtesy of her performance in the popular television series The Walking Dead. Initially starting her career on the Nickelodeon show Ned's Declassified School Survival Guide in the mid 2000s during her teenage years. She next acted in the Disney TV movie Cow Belles and became further known after playing a supporting role in Twilight released in 2008, which she went on to appear in the subsequent sequels. Simultaneously, she portrayed a recurring character in The Secret Life of the American Teenager before landing a significant part in The Walking Dead, which made her even more popular.
As mentioned, Christian has been in a couple of prominent films and TV shows, which has helped her gained recognition among worldwide audiences. Standing at 5'7, the actress is also notable for her tall and slender figure, which she kind of showcases in The Walking Dead with her sexy outfits to portray her sassy and fierce character. When asked about how she maintains a beautifully healthy body, she answered that it's just a matter of working out and eating healthy. When you do both, a sexy and a healthy physical condition is guaranteed.
About her diet, the television actress stresses out the importance of eating nutritious foods to not only help her maintain a slender physique, but also keep her overall well-being in good condition. Her secret? Drinking lots of water and eating raw and organic foods regularly. As part of her eating clean process, she stopped eating meat and consuming dairy and other food items containing gluten. As expected, she noticed how her body has felt better and how more energetic she has become, helping her work as an actress more effectively. When asked about her worst habit before she decided to eat clean, she said it was drinking lots of Diet Coke. Luckily, she was able to cut this habit as well.