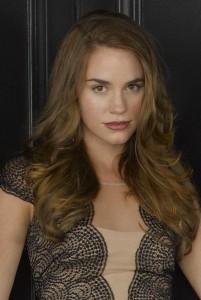 American star Christa B. Allen initially started her acting career as she was entering her teens by playing the younger version of Jennifer Garner's character in 13 Going 30 in 2004. After this, she acted in two short films. It then took her two years to land other acting gigs, but this time with a main role in the short-lived sitcom Cake in 2006. Subsequently, she continued her television career by acting in one-episode roles in various television shows. She then had a role in the 2009 made-for-television film Chasing a Dream. It was, however, in 2011 that she achieved popularity after she began playing the role of Charlotte Grayson in the primetime drama Revenge. The show ran for four seasons until 2015. After her stint on the show, she had a recurring character in the comedy series Baby Daddy. Her most recent work on film was in the B-movie Detention of the Dead in 2012.
Standing at 5'5, the 24-year-old actress is not only best known for her rebellious character on Revenge, but also for her sassy fashion sense, which was greatly highlighted by her slender figure. Naturally, the young star doesn't follow any specific diet plans yet. She's young, she loves food and wants to enjoy her meals as much as she can. Sure, she eats healthy. She loves fruits and some veggies.
She eats fish and chicken as well, but she doesn't have any strict limits of what she can and cannot eat. She's also very fond of desserts and claims that tiramisu is her ultimate favorite. To revitalize herself, she drinks lots of liquids such as orange juice and fruit smoothies. She even likes chai tea lattes. Because she's into eating out, she reveals she likes hanging out in cafes and restaurants, especially the ones specializing in organic foods.