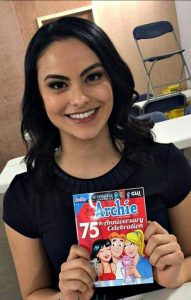 American star Camila Mendes had her career beginnings just recently. She also recently finished her degree from New York University Tisch School of the Arts. Her first acting gig was in a commercial for IKEA. She got her break this year after she started playing the role of Veronica Lodge in The CW series Riverdale. The characters in the show are based on the Archie comics. The series proved to be a hit, earning Camila and the rest of the cast mainstream fame. The series is currently in its second season. She has also won a Teen Choice Awards for her performance in Riverdale. She was also recently cast for a role in the upcoming movie The New Romantic. This will be released in 2018.
The 23-year-old actress stays in shape by sticking to a healthy lifestyle. Aside from her healthy food choices, she also stays active by working out. During her time shooting for Riverdale, she said she uses the apps "Headspace and Nike Training Club" in order to make sure that she remains fit both mentally and physically. When it comes to fitness, she has this for an advice: "Invest in a trainer. You see the progress so quickly, and you push yourself in new ways."
She also likes relaxing and meditating. That's why when it comes to her happy place, she said it's sauna at her gym. "I'll meditate in there for about 20 minutes," she added. When it comes to her fitness moves, she switches her activities every now and then to avoid getting bored. When it comes to just getting her body to move, she also likes doing the basics, such as heading outdoors to take a walk or go for a run. One thing for sure, Camila doesn't like idling around expect for when she's meditating.