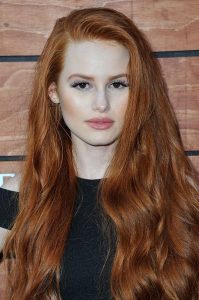 Madelaine Petsch recently found success as an actress despite the fact that it was only in 2015 that she started her professional acting career. Before she embarked on a Hollywood career, she studied at the Tacoma School of the Arts. She moved to Los Angeles following her graduation to become an actress. She made her debut with a small role in the movie The Hive. That same time, she made her first television appearance in an episode of Instant Mom.
In 2016, she had a role in the movie The Curse of Sleeping Beauty. Her huge break came after she got the role of Cheryl Blossom in the new series Riverdale, which she started starring in last year. The show just concluded its second season but Madelaine and the rest of the cast are enjoying a whole new level of success in Hollywood. Simultaneously, she also starred in the direct-to-video film F the Prom. This year, she won the Scene Stealer Award at the MTV Movie & TV Awards.
Aside from her clean diet plan (she's a vegan), the Riverdale actress also maintains her amazing figure by working out quite actively. In an interview, she said that she works out six days a week. "I exercise for an hour and a half: a 2 to 3-mile run, and then muscle training," she said.
She also gushed about her love of SoulScyle. She said: "Before I went to SoulCycle, I felt like it was a little out there because everyone tells you, 'it's amazing, you're going to feel a life change'. And I was like, 'okay, whatever,'—and then I went with my personal trainer. There's one instructor in Vancouver that I'm absolutely obsessed with and she knows it. I was nervous to do SoulCycle until I got into class. If you do it in the morning, your entire day is better, because your body is nourished and your soul is nourished."