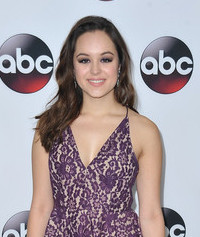 Hayley Orrantia first competed in the reality music competition The X Factor in 2011. That same year, she also made her first movie role in the independent feature Cooper and the Castle Hills Gang. It premiered at the Dallas International Film Festival. The actress also appeared in a TV commercial for commercial for Sprint around this period. After this, she successfully auditioned for the role of Erica Goldberg in the ABC series The Goldbergs.
She has since starring on the show since 2013 up to present, garnering her prominence. She has since appeared on other programs, like as herself in the game show Celebrity Name Game. After this, she starred in the web series Roommates. Later, she appeared in an episode of Hell's Kitchen. Orrantia reprised her role as Erica in the The Goldbergs spin-off Schooled, as well as appeared in an episode of Celebrity Family Feud. Back in the movies, she starred as Brooke Thawley in the feature film God's Not Dead 2.
Hayley Orrantia is health conscious, which means she mostly eats clean, whole foods and works out on a regular basis. She does this not just for maintaining a healthy weight but also for her overall well-being. The actress, however, admits that getting herself to eat clean wasn't easy. She had to cut back on processed foods, reducing her consumption of carbs and anything sugary. She did eventually and she's never felt better.
Although she also confesses to still struggling with following a healthy diet plan. "Focus on eating better, that was the hardest part for me. I still struggle with that a lot," said the actress. While she doesn't practice strict diet plans, the actress-singer makes sure she gets healthy meals most of the time. Her food choices typically include fish, chicken, fruits, vegetables, and whole grains. The Goldbergs star also eats in moderation.