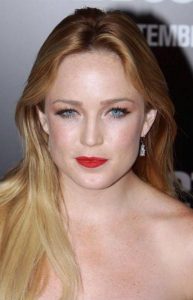 American actress Caity Lotz was first a professional dancer. She joined tours of popular singers like Avril Lavigne and Lady Gaga. She also danced for music videos. Being a dancer, she began her acting career in Bring It On: All or Nothing. Some years later, she made her TV debut on Mad Men. Her first main role on TV was on Death Valley. She recently became known for playing Sara Lance on Arrow. She was a recurring character on the show. On Legends of Tomorrow, she reprised the role as Sara/White Canary. This time she's part of the main cast. She has also starred in the films The Pact and its sequel, The Machine, and 400 Days.
The dancer-actress is now a television staple. This is thanks to her gig on Arrow and Legends of Tomorrow. Being a dancer has helped her with her role on the said shows. She looks great as the Black Canary on Arrow and is even more fabulous as the White Canary on Legends of Tomorrow. Of course her dancer has helped her giving her her rocking, fit body. But aside from that, Caity also makes sure she eats clean and healthy food most of the time. She's turning 30 this year and she knows how crucial it is to stay fit by eating right.
Her dancing is already a form of exercise, but she exercises more. Also, despite the temptations of bad yet delicious food, she makes sure she chooses the healthy ones. In an interview, she stated that she always tries to eat healthy in addition to working out. Why? Because it makes her feel good. She's one of those who believe that you are what you eat. Being a dancer and an actress, she knows that eating healthy is they key to having enough energy to work. For her it's simple, eat well, workout, and you're fine.